1846 Removal of English and Irish Paupers
« Back to Historical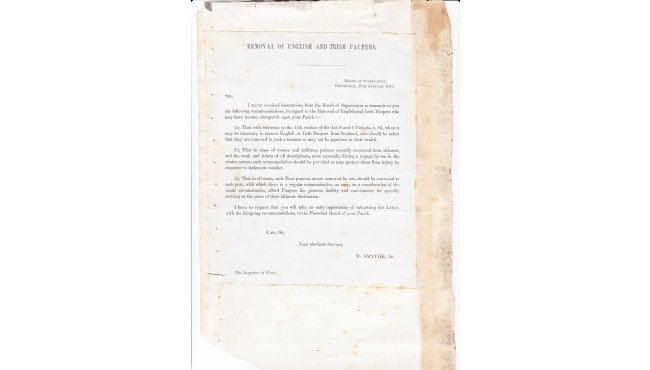 Removal of English and Irish Paupers 29th January 1846
Instructions from the board of Supervision
Recommendations in regard to removing English and Irish Paupers
Care to ensure that it is done that is in a manner not injurious to their health
Care of women, children, weak and infirm during a voyage by sea or wintry conditions
Poor persons are conveyed to a port that will give them the greatest chance of arriving speedily at their final destination
This letter to be put before the Parochial Board of the Parish as requested by
W. SMYTHE, Sec The Inspector of the Poor
Crailing and Nisbet Churchyards
[Regulations for Interments adopted by Heritors on 4th October 1895]
Who is allowed to be interred
Who holds the plan
What to do if you wish to open a grave
Who will grant permission
Minimum depth of graves 5 feet. What to do with human remains found whilst digging
Permission required to place a tombstone, corner stone or railing
Table of charges 5 feet = 6s, 6 feet = 7s 6d, 7 feet = 9s, 8 feet = 10s 6d
"As a result of Covid lock-down, Julia Harrison from Lincoln, was clearing out some old paperwork when she came across this precious document which had been found in a bureau that her parents purchased in the late 1980s in Chapel St Leanords. In 2005 the bureau was sold on but Julie hung on to the document. How or why, it ended up so far away from Crailing is a mystery however we are very grateful to Julie and her parents for (a) not destroying it in the first instance and (b) taking the time and trouble to send it back to the area from whence it came."
If, like Julie, you have uncovered any interesting documents that relate to the Crailing, Eckford and Nisbet Community Council area then please do get in touch. The Community Council have decided to have this document framed (along with another that Julie provided) and displayed in Lothian Hall, Crailing for safekeeping and for the interest of the local community.
To see the full content of this document download the pdf below to your PC.
To read it in full download the pdf document below to your own pc.