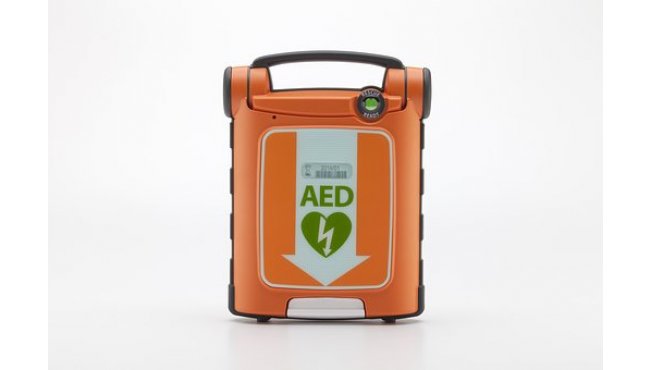 Thanks to grant funding from the "Scottish Borders Council Community Grant Scheme" and "Kelso Community Grant Scheme funded by Sainsburys" we are the first area in the Borders to have the very latest G5 defibrillator equipment. The defibrillators are located in the phone boxes in Crailing, Eckford & Nisbet . In Ulston the equipment can be found near the centre of the village on the Scottish Water pumping station.

The defibrillator is designed to save a life in the event that someone's heart stops. If you ever have to use it then it will talk you through the process and tell you exactly what to do. Many people have already been trained in their use but we will continue to run courses for new people and refreshers for those who did a course a while ago. If you are interested in a defibrillator training course email cencomms@hotmail.co.uk
The defibrillators are registered with the Scottish Ambulance Service so, in the event, that they are called to an incident they know exactly where the units are and who the local contact is.


Checking Equipment & Training Opportunities
Checking Equipment This is done on a weekly basis by a team of volunteers led by Malcolm McGregor, Nisbet, one of our Resilient Communities Coordinators. If you can offer just a few minutes a week to assist with checking in any one of the four location then please Sign Up now.
Training & Refresher Training Although many residents are already trained in using the defibrillator equipment we are offering ongoing training courses for everyone i.e. those who have not been trained before and refreshers for those who have. DON'T WORRY no training is required to operate the equipment it talks you through however we feel these courses give people increased confidence in the event that they need to use one in an emergency. If you would like to take part in AED (defibrillator) training or refresher training Sign Up now.
Sign Up
The more volunteers we have to check the equipment and/or undertake AED (defibrillator) training/refresher training the better equipped our community will be in the case of an emergency situation so please Sign Up now - we look forward to hearing from you. P.S. It is not difficult and anybody can do it.

Sign Up Now