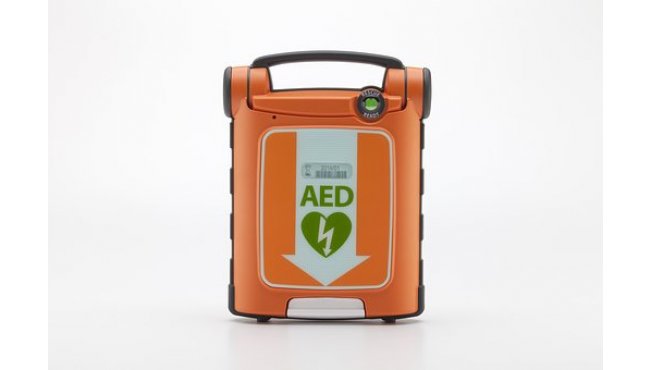 Thanks to grant funding from the "Scottish Borders Council Community Grant Scheme" and "Kelso Community Grant Scheme funded by Sainsburys" we were the first area in the Scottish Borders to have the very latest G5 defibrillator equipment. Ongoing maintenance and upgrades are the responsibility of Crailing, Eckford and Nisbet Community Council.

Our defibrillators are located in the phone boxes in Eckford & Nisbet, on the front wall of Lothian Hall, Crailing (facing the road) and in the centre of the village at Ulston on the Scottish Water pumping station.

In the event that you are in the vicinity of someone who appears to have had a heart attack then you should

FIRST - CALL 999 Start administering CPR immediately if the patient is not breathing. They will talk you through what you need to do. If you are calling from a mobile phone then an image of the location of the nearest defibrillator will be sent to your phone as we are part of the UK Ambulance Service National Circuit

SECOND - Extract the defibrillator from its casing and follow the instructions that it will give to you. A defibrillator is designed to try to save a life in the event that someone's heart stops. You cannot do any harm as the machine will not work unless the patients heart has actually stopped beating.

You do not need any advance training to use a defibrillator. Please note that you will not find a list of trained contacts at any of the above locations because patients in cardiac arrest need immediate treatment and there is no guarantee that you would get through to any private number provided. Every second counts when trying to save a life.

In the event that you know of any of the above defibrillators having been used please email cencomms@hotmail.co.uk immediately to make your Community Councillors aware of the situation and enable them to arrange for the equipment to be spot checked and have the single use pads replaced.


Checking Equipment & Training Opportunities
Checking Equipment Our defibrillators are checked on a weekly basis by a team of volunteers led by Malcolm McGregor, one of our Resilient Communities Coordinators, from Nisbet. New volunteers are always welcome. If you could spare just a few minutes a week to assist with checking the equipment in any of the four locations noted above then please Sign Up now.

Training & Refresher Your Community Council arrange for defibrillator training on a regular basis simply because people feel more comfortable using equipment that they have had prior knowledge of. The last training course was held in October 2019. Future training courses will be run after COVID 19 restrictions have been lifted. If you wish to highlight your interest in attending the next course when it is available then please Sign Up now.
Sign Up
Volunteers who Sign Up through our website should get an immediate automatic acknowledgement and within a few days receive a personal reply. If either of these does not happen in your case please email cencomms@hotmail.co.uk detailing what you were signing up to and we will have a technician check out the failure in our system. We hope you will Sign Up and look forward to hearing from you.

Sign Up Now