Christmas Cheer for Eckford 2020
« Back to Historical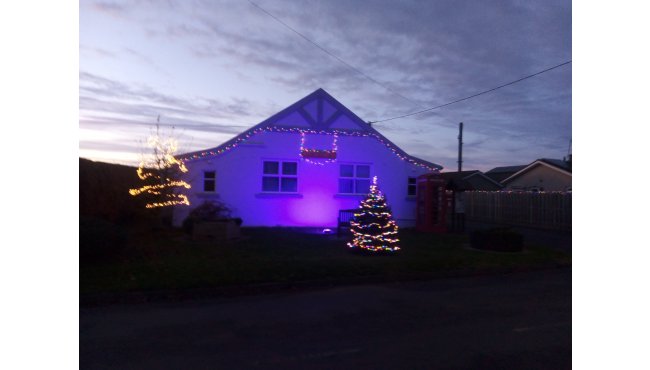 Thanks to a grant from Crailing, Eckford and Nisbet Community Council and the efforts of Bruce Kinnoch, Charlie Robertson and Norrie Fraser, Eckford Village Hall was decked with external lights this year (2020) bringing a much needed winter boost to residents and passers by following a very gloomy spring, summer and autumn due to Covid 19. The lights were switched on by Dick Borthwick, a senior resident in the village, on the 1st December 2020.
Sandra Kinnoch, Chairman of Eckford Village Hall, said
"Like everywhere else it has been a very challenging year. Our Village Hall is normally well used so it has been particularly hard not to be able to run the usual range of events and see our community coming together on a regular basis. Local resident, Charlie Robertson, came up with the idea of bringing some Christmas cheer to the village by decorating the Village Hall with lights an initiative that has been warmly welcomed judging by the number of compliments that have already been received".