East Nisbet - Yvonne Riddell's family
« Back to Historical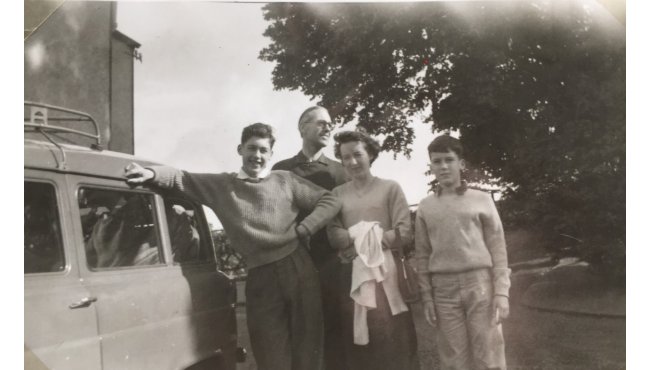 Yvonne Riddell's father, John Riddell, was born in 1895 the son of William Riddell and Elizabeth Pringle. Irene 'Yvonne' was the result of his union with his first wife Doris Jones. They divorced and he remarried Alys Savage they had a daughter Audrian Riddell on 18th April 1926. John and Alys settled in Canada after he had moved there to fruit farm. John died on 9th February 1959 having gained the rank of Temporary Captain in the Royal Scots.
Yvonne Riddell and her husband Richard Adamson Crow had two sons Richard Michael Crow born 27th October 1944 and Michael Anthony Crow born 16th May 1948. Yvonne and Richard are pictured here with their two sons. They also adopted two girls Tracey and her younger sister Katherine. Tracey is pictured sitting in the bogey (Go Kart) with Katherine behind pushing it at East Nisbet in the 1960s. The bogey, painted green, with a registration number OK41 (possibly meaning OK for one person or 41 is the year Richard was born) is believed to have been made by Will Davidson, a farmer at East Nisbet, for Richard and Michael. The lawn had a couple of steep slopes at the time so the boys had great fun pushing each other over the edge and steering the bogey with the strings attached to the front wheel mechanism. Some years later the girls enjoyed getting up to the same antics with the bogey. The boys proudly show off their transport. Other pictures show the banks that were so good to ride down, one on front of the house the other by the tennis court. Yvonne is on the bank in front of the bay window other people have not been identified.
See also Yvonne Riddell. All photos and details have been supplied by Tracey Banks.