East Nisbet - Irene Yvonne Crow (nee Riddell)
« Back to Historical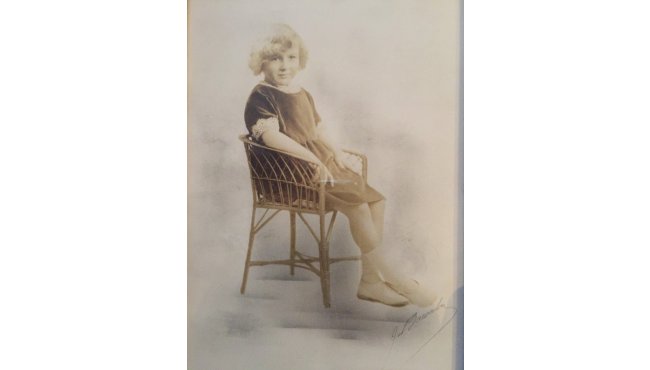 Irene Yvonne Riddell (always known as Yvonne) was the daughter of John Riddell (born 1895) and his first wife Doris Jones who married in 1918 and divorced in 1923. Yvonne, born on 19th May 1919, is pictured below at various stages of her life. She married Richard Adamson Crow on 6th June 1943 at St John's Episcopal Church, Jedburgh when he was 24 and she was 23. Some of the early photos are believed to have been taken at East Nisbet Farmhouse. Yvonne is mentioned in the Jedburgh Gazette on 24th December 1937 and 8th April 1938 in local community news.
Yvonne's grandmother was Elizabeth Pringle who married her grandfather William Riddell.
To find out more about 'Irene Yvonne Riddell' or 'Richard Adamson Crow' visit
The Peerage Website
put their names in the same search then follow the line of Riddell upwards. By clicking on the father each time you will get back to the 1600s where the 1st Baronet in the Riddell line is recorded. Note: The easiest way to trace the line is by clicking on each person's father's name.
Sir John Riddell, 3rd Baronet, was given a remission for treason from King James II in 1687 then went on to serve as an MP for Roxburghshire between 1690-1700!
All photos and information have been supplied by one of Yvonne's adopted daughters, Tracey Banks, who took the East Nisbet Farmhouse colour photograph below with her Instamatic camera in the 1960s. Yvonne is believed to have been born on the same day as a meeting was held at The Royal Albert Hall to set up the Save the Children Fund. Tracey find this fitting since her parents adopted two girls when they were babies.
Further information on the Save the Children Fund can be found at the link below.
https://www.royalalberthall.com/about-the-hall/our-history/explore-our-history/time-machine/1910s/