Jubilee Path Booklet revised June 2019
« Back to Historical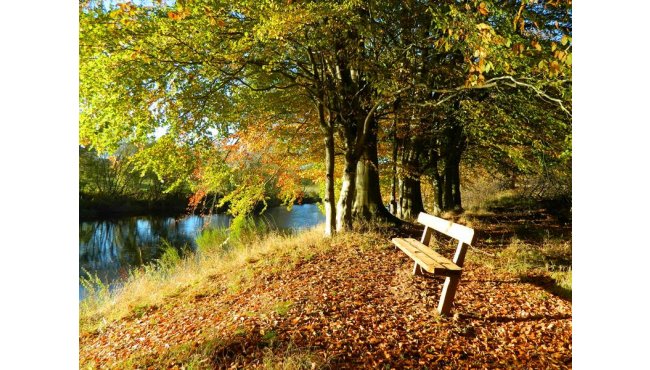 Our well used and much appreciated 'Jubilee Path' is a circular walk linking up the three villages of Crailing, Eckford and Nisbet. The walk was officially launched by Celebrity, Actor, Comedian and Presenter - Rory Bremner. The Jubilee Path Walking Booklet can be found in the phone boxes in Crailing, Eckford and Nisbet as well as the VisitScotland i-Centre in Jedburgh. You can also pick up copies at Teviot Gamefare Smokery - Kalemouth and Harestanes Countryside Visitor Centre.
Alternatively go to the Community Resources Section of this website and download from the Community Council Section see 'Files & Documents' where you can download just a map of the route or a copy of the complete booklet which was revised and reprinted in 2019. As a result of the route's popularity with visitors and locals alike the booklet has been revised and reprinted. A pdf can be found under the Community Council Section of this website under Files and Documents
https://www.crailingeckfordnisbet.co.uk/community-resources?section=community-council

A recent visitor was kind enough to contact us to tell us of their experience of the route.
"My wife and I walked the Eckford - Jedfoot section of the Jubilee Path recently. We found it to be a thoughtfully planned and well marked route with some spectacular views. It was also great to see the Borders Abbey Way and St Cuthbert's Way being connected and utilised to form the new route."
Jackie and Rick - Manchester
Have you walked all or part of the Jubilee Path?
If so please email us to let us know how you found it. With your permission we will publish your comments here. Also if you have taken any photographs along the way of yourself, your party or the views then we'd love to see them and again with your permission publish them on our website. Please email
cencomms@hotmail.co.uk

Like many paths in our area parts of the Jubilee path enter fields that are sometimes used by grazing animals including cattle.
Please follow the Scottish Outdoor Access Code at all times.
The following links provide advice for dog walkers.
https://www.outdooraccess-scotland.scot/practical-guide-all/dog-walking

https://www.outdooraccess-scotland.scot/practical-guide-all/farm-animals

There is more information on walking on farmland on pages 6 and 7 of the paths around Jedburgh booklet.
https://www.scotborders.gov.uk/downloads/file/675/jedburgh

For information on paths around Kelso visit the link below.
https://www.scotborders.gov.uk/directory_record/7462/paths_around_kelso/category/107/paths_around_towns