Dragon Fills Eckford Village Hall
« Back to Historical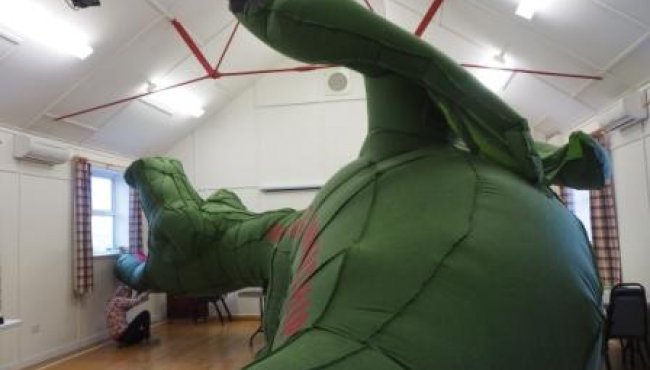 Finding a dragon in Eckford Village Hall was not difficult when it turned out to be a 25 foot long beast that filled the whole interior of the main part of the building. The hall was the ideal venue to check that this wonderful creation was in perfect working order before it made its official appearance on the streets of Edinburgh.
As part of their new artwork, artists Zoe Walker and Neil Bromwich mark the launch of the 2017 Edinburgh Festival with a public performance, in which the Dragon of Profit and Private Ownership, an inflatable dragon inspired by the imagery on a 1920s banner from the Northumberland Miners' Association, took to the streets of Edinburgh. This symbolic act invites us to publicly question the distribution of capital and to conjure up alternative belief systems.
The project took inspiration from sources ranging from Russian Constructivists, medieval Mummers plays, the pageants of Patrick Geddes, as well as the radical ideas of Geddes and other visionary thinkers from the close of the 19th century who strove to make the world a better place.
The artists worked with a range of participants to create the performance including children and families from Canal View Primary School, in Wester Hailes.
With additional support from Canal View Primary through the Scottish Government Pupil Equity Fund, and from Danns-ed, a student dance company from University of Edinburgh, and students from MSc Dance Science & Education at Moray House School of Education, University of Edinburgh.