Private William Black
« Back to Historical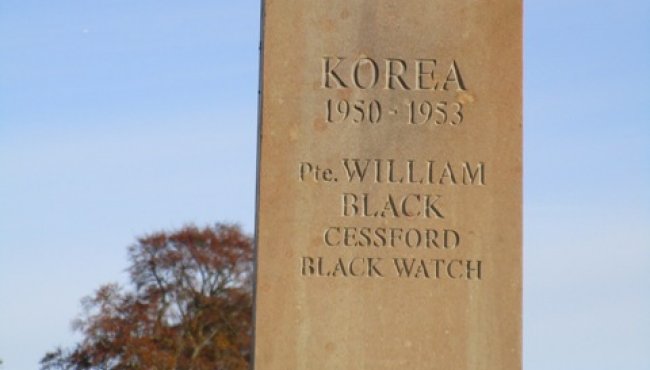 Private William Black was officially who paid the ultimate sacrifice sacrifice to his country was officially recognised at a rededication service on Armistice Day, 2016 when the Rev Frank Campbell led a service at Eckford Parish Church War Memorial attended by his family, former veterans of the Korean War, representatives of the Royal British Legion and a number of local residents.
William, a herd from Cessford, was just 19 years old when he signed up to join the Kings Own Scottish Borderers in 1952. A bout of illness meant that he was unable to join the rest of his platoon who were heading for Japan. Instead a cruel twist of fate found him assigned to the Black Watch and sent to Korea where he was killed by communist fire just 4 days after he arrived.
His sister Helen Whitelaw (nee Black) and brother-in-law John Whitelaw from Musselburgh along with William's niece Evelyn Forbes and great nephew Gregor Forbes attended the service in his honour 64 years after he was killed.
It was a source of great pride for Helen to see her brother finally recognised on a War Memorial in his home county. Helen said "My brother is recognised on a UN memorial plaque in Pusan, Korea but our father James, who died in 1957, would have dearly loved to have seen his name on the War Memorial here in Eckford."
Finding Private Black came about as a result of six other local men, who died during WW2, being recognised on the WW1 War Memorial at Eckford Parish Church on 11th November 2015. A chance discussion between Margaret Jeary, Kalemouth and Neil Paterson, Morebattle at the 2015 re-dedication ceremony revealed that another local man had been killed in the service of his country. Margaret set about tracking down the details and with funding from Scottish Borders Council Quality of Life Fund Private William Black has now been formally recognised for the ultimate sacrifice that he made.
Poppy wreaths were laid by Helen Whitelaw, on behalf of the family and John Campbell, Chairman of Crailing, Eckford and Nisbet Community Council on behalf of the residents of the community.
We would like to see this website grow with information on local people past and present. If you can help provide information please click on [Submit Historical] type in your text and add your photos or email the information to cencomms@hotmail.co.uk