Jubilee Path Launch
« Back to Historical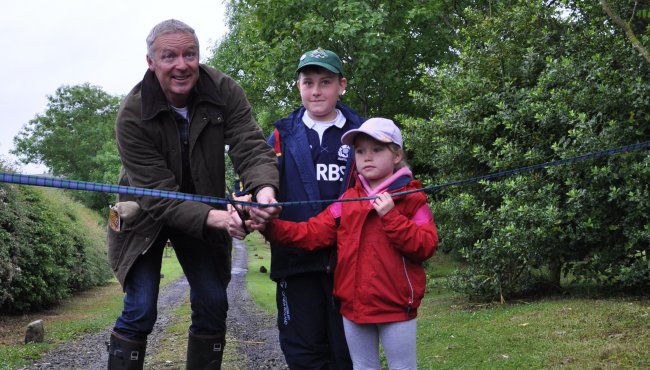 Over 100 people packed Eckford Village Hall on 17th June 2016 to witness the formal launch of the Jubilee Path. This is a 12.5 mile walking and riding path which connects the three villages of Crailing, Eckford & Nisbet. The walk can be undertaken as a whole or in various parts and most of the route is easy/moderate.
The official launch of the route was carried out by one of the country's top entertainers, the impressionist, comedian and actor Rory Bremner. Rory in various guises including Prince Charles, David Cameron and Barrack Obama cut the launch ribbon and was presented with a commemorative walking stick by Harry and Connie Grant the grandchildren of two of the villagers.
John Campbell Community Council Chairman said
"We were absolutely delighted with such a huge turn-out at our launch from all over the Borders and indeed further afield. This augers well for the future as I am sure news of the superb walk and magnificent views will be spread far and wide and will encourage others including organised walking groups to attend. I am sure that the walk will be enjoyed by locals and tourists alike and will help local businesses such as the cafe's and restaurants that are on or near the route. This all makes for a great family day out and the people of Crailing, Eckford & Nisbet will be delighted to welcome visitors from far and wide."
Doug Wilson, Regional Director of VisitScotland said:
"We are delighted to support the opening of the new Jubilee Path. It demonstrates a real commitment by the local community council to further enhancing our region's tourism offering and attracting more visitors to the Scottish Borders, an area renowned for its walking and outdoor pursuits."
A copy of the booklet and map of the route can be found under the Community Council tab of this website. Copies are also available in the Phone Boxes at Crailing, Eckford & Nisbet, Teviot Game Fare Smokery at Kalemouth near Eckford, Harestanes Countryside Visitor Centre near Ancrum and the VisitScotland Information Centre in Jedburgh.